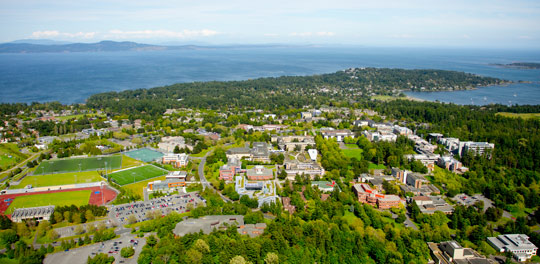 The University of Victoria is one of Victoria's largest employers and one of Canada's best diversity employers. Together we are more than 5,000 dedicated faculty, librarians and staff supporting the University of Victoria's diverse academic programs, world-class research and commitment to civic engagement.
Job Summary
Ocean Networks Canada (ONC) enables transformative ocean research and technology development through an innovative cabled infrastructure that supplies continuous power and Internet connectivity to a broad suite of subsea instrumentation in coastal and deep-ocean environments. ONC supports a new generation of coastal and deep ocean research through the management of cabled ocean observatories consisting of the NEPTUNE Canada and VENUS systems off the coast of British Columbia, as well as various mini-observatory installations (e.g. Cambridge Bay), on behalf of the University of Victoria. More details can be obtained on the ONC web site at www.oceannetworks.ca.
The GIS Specialist is responsible for the provision of geospatial services for ONC including mapping, route planning, bathymetric data collection and processing, geospatial data products, as well as for the maintenance of geospatial data in an organized ArcSDE interfaced database. The GIS specialist interfaces with internal teams (e.g., executive, science, engineering) developing plans or seeking an end-product, and with external contractors (e.g., ROV navigators, graphic designers), scientists or institutions that require ONC geospatial information.
Job Requirements
The position requires a Bachelor's degree in Earth or Ocean Sciences or related field such as remote sensing or Engineering, formalized training in multibeam sonar data collection, and at least 3 years' related experience, including use of ESRI ArcGIS software and the Fledermaus Professional Suite, interpreting and processing bathymetric and scalar data, at sea aboard research vessels and writing technical reports.
A scientific or research background sufficient to understand the technical aspects of Ocean Networks Canada's observatory is essential. Excellent interpersonal skills, problem-solving capabilities, and an ability to work under time pressure conditions are highly desired.
In addition, the following knowledge and experience are required:
Ability to program in Matlab, Python, and/or other data processing languages
Familiarity with classifying and interpreting seafloor geology
Fluent in the use of SQL-based database access tools
Equivalent combinations of education, training, and/or experience may be considered.
The following skills or knowledge areas would be an asset:
Filing NOTMARs and NOTSHIPs and their requirements
CARIS HIPS and SIPS
Multibeam acquisition software such as Imagenex Octans or SIS
3D modeling software such as Google Sketchup or Solidworks
Coordinate conversion software such as Corpscon
Cable lay planning
ESRI Nautical Solution extensions
Integration of geospatial web-services
The University of Victoria is an equity employer and encourages applications from women, persons with disabilities, members of visible minorities, Aboriginal Peoples, people of all sexual orientations and genders, and others who may contribute to the further diversification of the university.
For Additional Information see https://uvic.mua.hrdepartment.com/display_document.php?noheader=1&file_id=53548&action=download
https://gisjobs.ca/wp-content/uploads/2017/09/GIS-jobs.png
0
0
GIS Jobs
https://gisjobs.ca/wp-content/uploads/2017/09/GIS-jobs.png
GIS Jobs
2017-10-31 17:52:47
2017-11-14 21:41:35
GIS Specialist